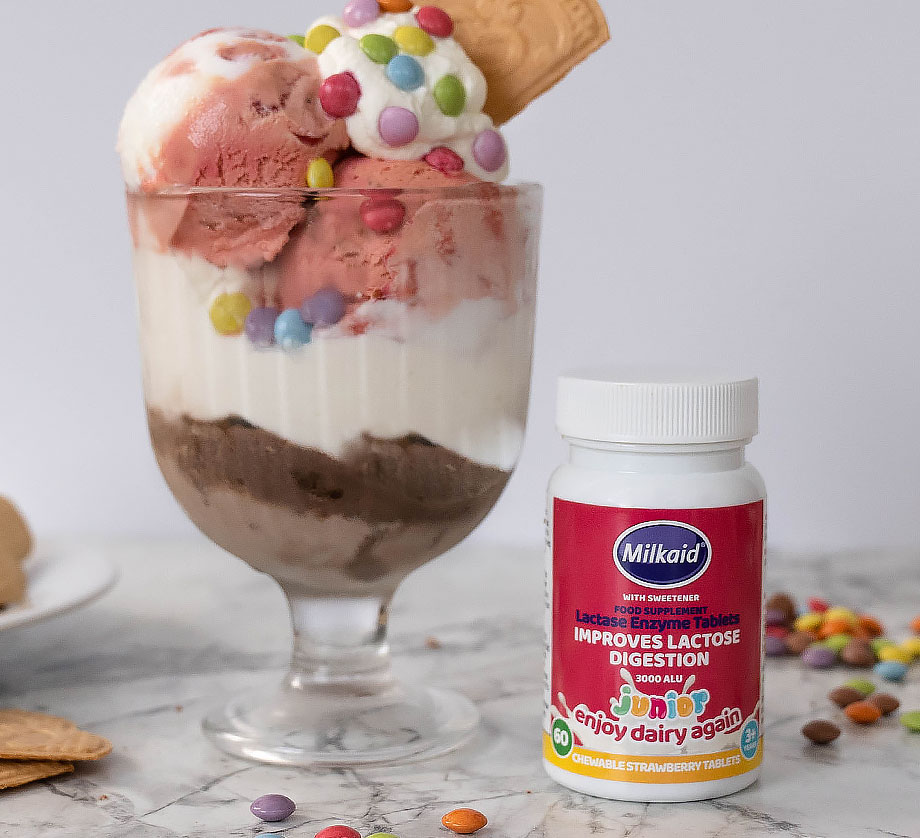 Pharmed client brand, Milkaid®, features their Junior Tablets – going into detail about how their tablets can allow your child to enjoy their favourite dairy-based treats again, without the fear of experiencing lactose intolerance symptoms.
If your child suffers from lactose intolerance and you're looking for ways to relieve their discomfort, we may have a possible solution for you…
What is lactose intolerance? 
Lactose intolerance is the inability to digest a sugar that is found in milk and other dairy products called lactose, this is due to an impairment in the production of the lactase enzyme. Normally when we eat something containing lactose, lactase breaks it down into simpler sugar forms called glucose and galactose. Lactose intolerance is not life threatening like a dairy allergy, but it can be uncomfortable – especially for children.
Spotting the signs of lactose intolerance…
Mum, Chantele, shares her son's lactose intolerance journey…
"When my son Elian (now 5) was around 18 months old we started replacing some of his regular breast milk with cow's milk, which he loved. He would happily guzzle down a good 11oz bottle twice a day, and it was a replacement for all his feeds when he with his grandparents whilst I worked. However, we started to notice that he was constantly having a bad tummy and we couldn't work out why.
For weeks we looked at what he was eating, and often just put it down to teething, which is originally what our health visitor suggested. After this had continued for a number of weeks, we eventually took him to our local GP, who suggested we cut out dairy.
After just a few days of lactose free milk his stomach issues stopped completely, and we have never gone back to regular milk. We've changed our butter to a dairy free alternative because this seemed to bother him too, as he has sandwiches daily when in school.
While Elian doesn't mind having lactose free milk at home for his cereal and to drink, the one thing he really loves and misses out on is being able to have a milkshake when we're out. We make them at home with his lactose free milk, but it really isn't the same as a proper good strawberry milkshake that he loves."
The solution… Milkaid® Junior Tablets
"So my son doesn't miss out on his favourite milkshakes I've been searching for a product that would help settle his stomach after consuming dairy, and I think we've found a solution with Milkaid® Junior Tablets.
Luckily Milkaid® has developed their Milkaid® Junior Tablets which are strawberry flavoured chewable tablets, containing lactase enzymes to improve lactase digestion. Each tablet contains lactase 3000 ALU and is free from artificial flavours, gluten and yeast.
The tablets can be taken just before your child eats something containing lactose to help their bodies digest the lactose, and no water is required as your child can simply chew them. By taking Milkaid® Junior Tablets this means that your children can finally start enjoying their favourite dairy-based treats again!
The tablets are very convenient, as you can just pop them in your bag when you're on the go, so you're prepared if they fancy a treat which may contain lactose whilst you're out. Plus, you can put them in their school bag or lunchbox to take at lunchtime, and you can even bring them along to kids' parties so that your little one no longer needs miss out on the fun when it comes to mealtimes."
Now your children can enjoy the goodness of milk and dairy again with Milkaid® Junior Tablets, suitable for children from the age of 3+, and available for sale in Boots, as well as online at www.boots.co.uk and www.milkaid.com.
If you think your child may have a lactose intolerance you can find more info on possible symptoms here.
You can also read more on Chantele's story here, as well as reviews from other mums like Andra here.